Create delicious meals with our Finch + Fennel Recipes!
Classic Gluten-Free Pancakes & Waffles 
Prep time: 5 minutes
Cook time: 3 minutes
Makes 2-1/4 cups batter
Ingredients:
1 cup milk or water
1 egg
2 tablespoons butter, melted and cooled, plus more for frying
Directions:
Whisk egg into butter until smooth. Add milk or water and whisk until smooth.
Add

 

Finch + Fennel Ancient Grain Gluten-Free Pancake & Waffle Mix

 

and stir until no lumps remain and batter is smooth.
Heat large griddle or skillet to medium temperature and brush lightly with melted butter. Drop spoonfuls of batter to desired size onto hot surface and let cook, about 3 minutes. Flip pancake when bubbles form on top and edges are golden.
Transfer cooked pancakes onto plate and cover to keep warm until all pancakes are cooked.
Serve pancakes topped with a swipe of butter and drizzled in

 

Finch + Fennel 100% Vermont Maple Syrup or sprinkled with fresh berries.
----------
Peanut Butter French Toast Sandwiches with Amaretto Peachy Pecan Maple Syrup

Ingredients:
MAPLE SYRUP:
1/2 cup

 

F+F Amaretto Peach + Pecan Preserves
FRENCH TOAST:
4 eggs
2 ounces heavy cream
Nutmeg, to taste
4 slices of Italian bread
Peanut butter
Directions:
MAPLE SYRUP:
Place

 

F+F Vermont Maple Syrup

 

in a small saucepan and bring to a rolling boil.
Let boil for 5 minutes.
Lower heat and add

 

F+F Amaretto Peach + Pecan Preserves.
Stir until blended and simmer until mixture thickens.
Remove from heat and let cool.
FRENCH TOAST:
Spread peanut butter on two slices of Italian bread.
Place other two slices on top to create sandwich.
Beat eggs, heavy cream and nutmeg together.
Dip sandwich in egg mixture and let egg soak into bread.
Place in skillet with oil or butter and cook until golden brown on both sides.
Top with blended amaretto peachy pecan maple syrup.
Vanilla French Toast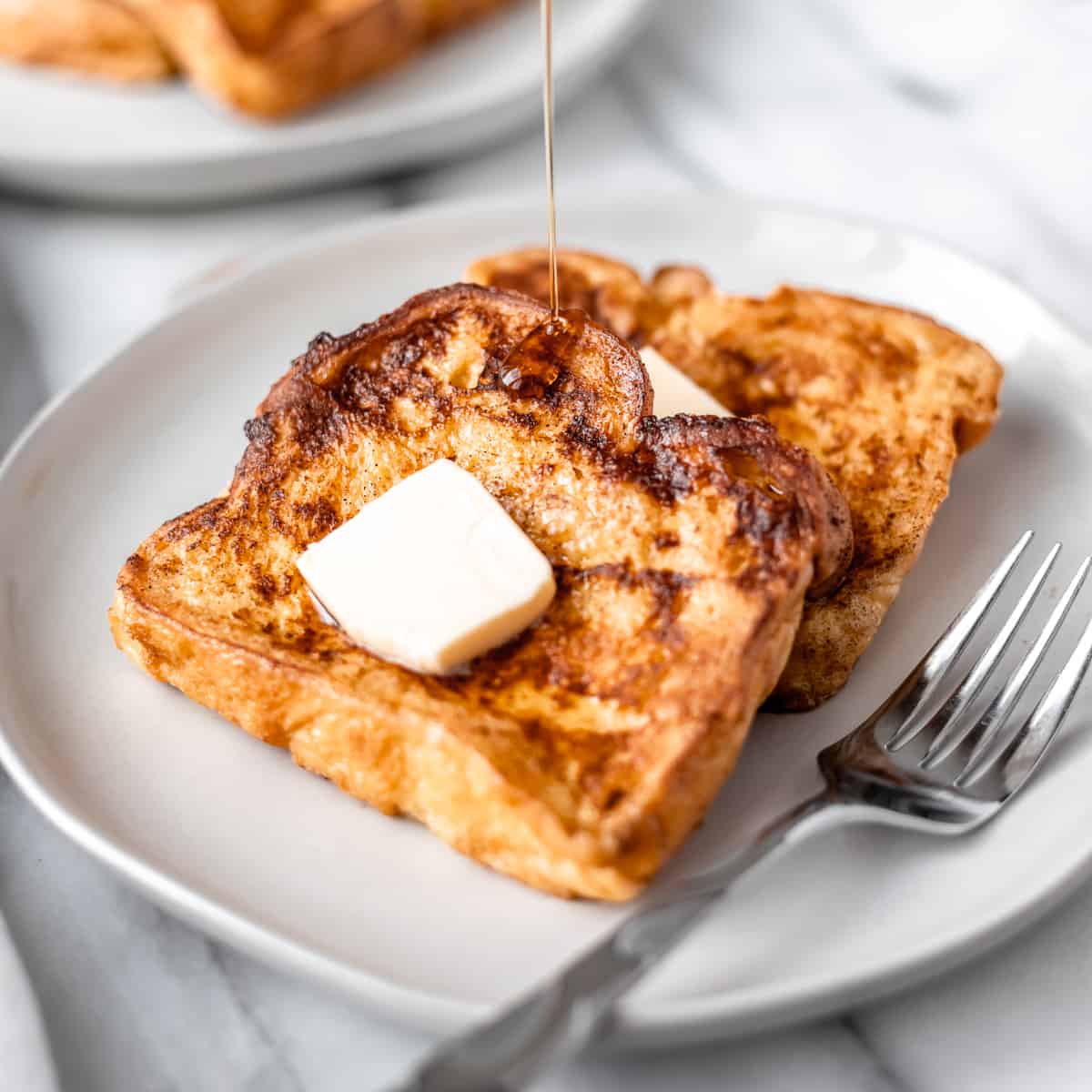 This simple and elegant French toast recipe is spiced with cinnamon, nutmeg, and vanilla.
Prep time: 5 minutes
Cook time: 25 minutes
Servings: 4
Ingredients:
6 large eggs
1-1/2 cups whole milk
1/4 teaspoon ground cinnamon
1 pinch ground nutmeg
1/2 teaspoon vanilla
2 tablespoons white sugar
pinch fine sea salt
8 slices white bread, thick
4 tablespoons butter, divided
Finch + Fennel Vermont Maple Syrup, for serving
Directions:
Preheat oven to 200°F.
Whisk together eggs, milk, cinnamon, nutmeg, vanilla, sugar and large pinch of salt in large bowl.
Add two slices of bread to milk mixture, and toss to coat.
Heat 1 tablespoon butter in large non-stick skillet over medium heat until foaming subsides.
Place two slices of bread on skillet and cook until browned on the bottom, 2 to 3 minutes. Flip and brown on the other side, another 2 to 3 minutes.
Transfer to plate and keep warm in preheated oven. Repeat process with remaining slices of bread.
Serve French toast with

 

F+F Vermont Maple Syrup.
Seville French Toast
Prep time: 1–3 minutes
Cook time: 10–20 minutes
Servings: 6 depending on bread type
Ingredients:
2 large eggs
2/4 cup whole milk
1/4 cup orange juice
1 tsp vanilla
3 tbsp

 

F+F Seville Orange + Fennel Preserves
2 tsp melted butter 
1 tsp cinnamon 
6 thick slices of white bread/brioche
Directions:
Melt 2 tablespoons of butter in a sauté pan and set aside to slightly cool.
Combine all other wet ingredients and whisk together until eggs are completely incorporated.
Slowly add in cooled butter and whisk until combined.
Dredge bread through liquid until the bread has soaked through.
Heat previously used sauté pan to medium high, once up to heat sear bread on both sides.
Top with

 

F+F Vermont Maple Syrup, butter,

 

F+F Seville Orange + Fennel Preserves

 

and enjoy!
----------
Sweet Bourbon Grilled Salmon
Ingredients:
2–4 6 oz. pieces of Coho salmon
Kosher salt
Fresh ground black pepper
1/2 cup olive oil
Directions:
With a basting brush, lightly brush both sides of your salmon filets with olive oil, reserving a little to brush on your clean grill grate. Important! Your grill grate must be clean for this recipe to work. Otherwise, your salmon will stick and create a big mess.
Lightly season each side of your salmon with kosher salt and fresh ground pepper. Preheat your grill of choice to 400°F.
While grill is preheating, pour 4 oz. of

 

Finch + Fennel Sweet Bourbon Grillin' Sauce

 

into a small saucepan and heat on stove until sauce starts to slightly simmer. You want it warm, not boiling.
Once your grill is preheated to the desired temperature, brush your cleaned grill grate with olive oil and place salmon, skin side up, on your grill for 5 minutes with lid closed.
With a wide spatula, flip salmon and brush top side with

 

Finch + Fennel Sweet Bourbon Grillin' Sauce

 

and cook for 5 minutes longer.
 Glaze salmon with

 

Finch + Fennel Sweet Bourbon Grillin' Sauce

 

once more and remove from grill, let cool for 5–10 minutes. Serve with your favorite sides.
----------
Tangy BBQ Pork Sliders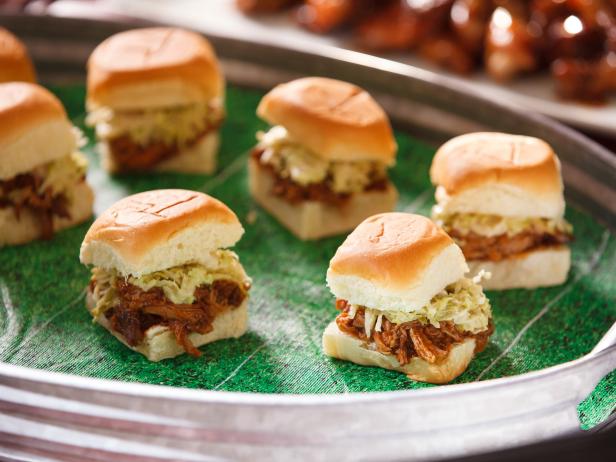 Ingredients:
20-ounce pork loin/shoulder
1/2 cup water
3/4 large sliced sweet onion
Dill pickles, sliced
Sweet rolls
Directions:
Sear pork shoulder on all sides then place in slow cooker with 1/2 cup water for 8–10 hours.
When meat is done, pull meat apart with fingers or two forks.
Caramelize the onion by sautéing onion slices until they are soft, slightly translucent, and beginning to brown.  
Toss pulled pork with

 

Finch + Fennel Carolina-Style Tangy Mustard BBQ Sauce

 

and caramelized onions.
Top with pickles and serve on a sweet roll.
----------
Boston Baked Great Northern Beans
Great Northern Beans are what builds traditional Boston baked beans. Flavored with three sweeteners: maple syrup, brown sugar and molasses. Precook the Great Northern Beans to tender for proper results.
Prep time: 15 minutes
Cook time: 180 minutes
Servings: 6
Ingredients:
1-1/2 tablespoons olive oil
1 onion, chopped
4 cups great northern beans, cooked al- dente, drained, with liquid reserved
1/4 cup granulated brown sugar 1/4 cup molasses
1-1/2 tablespoons mustard powder
1/4 cup apple cider vinegar
1/2 cup water
2 teaspoons kosher sea salt
1 teaspoon ground black pepper
Directions:
Preheat oven to 325°F and lightly grease 2-quart casserole dish with olive oil.
Heat olive oil in large skillet over medium heat. Sauté onion until translucent. Gently stir in drained beans and set aside.
Whisk Finch + Fennel 100% Vermont Maple Syrup, brown sugar, molasses, dry mustard, vinegar, salt and pepper in small bowl with fork.
Layer half of bean-onion mixture into casserole and top with half of syrup mixture. Repeat.
Add enough of reserved bean cooking liquid to cover beans.
Cover and bake until beans are softened, and flavors have infused, about 3 hours.
For a spicy twist to traditional Boston Baked Beans, add several dashes of

 

Finch + Fennel Fire Roasted Hot Sauce

 

to beans and serve.
----------
Southern Pulled Pork
Ingredients:
Directions:
PREP
Rub pork shoulder/butt with yellow mustard (gives seasoning something to stick to). Then, generously rub with F+F Organic Mesquite Seasoning Rub. Wrap it, and let it sit in the refrigerator for 24 hours to allow the spices to penetrate the meat.
SMOKE / ROAST
Heat smoker/grill or oven to 225°F. Indirect heat works the best. Add your favorite soaked wood chips to add the smoked flavor.
Allow pork to come to room temperature then place in smoker or oven.
Smoke/roast Boston butt about 60–90 minutes per pound.
Every 2-1/2 hours, turn the roast to ensure even cooking. Mop with combination of apple juice and olive oil to keep it moist.
The meat is done when the internal temperature is above 190°F.
Low heat and slow cooking time is the key to tender, moist pulled pork. Don't be afraid to start early because it can take longer than expected. If it gets done early, wrap it in foil and put it in a cooler. It will keep warm for hours after it is done.
Let the smoked/roasted Boston butt sit for about an hour after it is done so you don't burn your fingers as you pull the meat or use pulling forks. After pulling the pork roast apart, apply F+F Kentucky Style Sweet Molasses BBQ Sauce to taste and serve.
Brisket
Prep time: 1 hour
Cook time: 12 hours
Servings: 12–16
Ingredients:
12–15 lb. whole packer brisket
1 tbsp mustard
1/4 cup kosher salt
1 cup beef broth
Directions:
Trim the fat cap of the brisket down to 1/4". Trim the large chunk of hard fat that sits between the point and flat muscles on the meat side of the brisket. Trim the sides and ends to be uniform in shape. Add the mustard to the entire surface of the brisket creating a light slather for the spices to adhere. Mix together the Kosher Salt and

 

F+F Organic Mesquite Seasoning Rub, together in a shaker. Shake the spice mix evenly across all surfaces of the brisket. Let the meat sit out at room temperature for at least an hour before putting it on the smoker (this allows the meat to start cooking faster at the lower temperature. If you put a large cut of meat in the smoker cold, it will add up to an hour or more to your total cook time).
Bring smoker temperature to 250°F and add 2–3 chunks of smoking wood (Hickory, Cherry, Post-oak, etc.). For kettle smokers, add a water pan to help keep humidity at 70%–80% range.
Place the brisket fat side down if the heat source is directly below the meat; fat side up for indirect heat. The fat cap renders slowly during the long cook and will act as a barrier between the meat and the heat source helping to keep surface area from drying out.
Smoke for 3 hours without opening the smoker. This first phase is when the most important smoke absorption occurs.
As you are waiting to check the brisket after the 3-hour mark, prepare a spray bottle to mist the brisket during the next part of the cook. Fill your spray bottle with 3 parts water, 1 part apple cider vinegar, a dash of Worcestershire sauce, and a dash of your favorite hot sauce.
After the first 3 hours of the cook you should have decent color forming on the outside of the brisket. Check the moisture level by touching the surface area of the flat part of the brisket with your fingertip. Do not move or pick up the brisket as you do not want to interrupt the bark formation. The surface should be slightly sticky to the touch but not wet. If it is dry and streaky, spray the surface with the water/apple cider vinegar mixture. Making sure the surface area stays moist is key. Spray every 30 minutes or so until you wrap the brisket after it breaks stall.
After 4–5 hours of total cooking time, the internal temperature will stick at one spot usually between 150°F and 160°F. This temperature "stall" can last several hours. Make sure not to put the tip of the thermometer into the fat layer but check the muscle for accurate results.
Once the internal temperature starts climbing by more than a degree from the stalled temperature, and your bark is a dark mahogany color, it is time to take up the brisket and wrap.
Wrap in aluminum foil or butcher paper. Paper allows the steam inside to release without getting trapped inside helping the bark to darken and provide a good texture. Wrapping with foil usually speeds up the time to get the brisket probe tender but can impact bark formation. Remove the brisket from the smoker onto two pieces of butcher paper roughly 30" long a piece overlapping. Place the brisket about 1/3 of the way up the overlapping butcher paper and spritz one more time with water/vinegar mixture. Add a few shakes of the

 

F+F Organic Mesquite Seasoning Rub

 

and salt mixture to the surface of the meat then wrap the brisket. Place the wrapped brisket in a large aluminum pan with a cup of beef broth in the bottom. Place the pan with the brisket back in the smoker and let it cook until it is done.
Two cues to brisket being done:

Temperature: flat starts measuring 190°F to 210°F.      
Feel: use the thermometer probe to check the flat and point for tenderness. Thermometer should go in and out of the brisket with little to no resistance. Check every 30 minutes until that is the texture you feel when taking the temperature.

When desired texture is reached, remove brisket from smoker and put it into another pan to rest at room temperature until the internal temperature drops to 165°F (usually an hour). Crack the wrap slightly allowing heat and steam to escape. This stops the carryover cooking and brings the temperature of the brisket to a place that is optimal for resting.
Now take that brisket out of the aluminum pan (leaving it wrapped in the butcher paper), wrap it in plastic wrap, wrap that in an old towel, and place it in an empty cooler for 1–4 hours. This resting is a key step to getting the brisket as juicy as possible.
Smoky Chicken Wings
Prep time: 10 minutes
Cook time: 30 minutes
Servings: Makes 5 pounds
Ingredients:
Directions:
Preheat oven to 450°F. Line sheet pan with aluminum foil.
Rinse chicken wings with cold water. Toss wings in medium bowl with 2 tablespoons

 

F+F Organic Mesquite Seasoning Rub, coating wings evenly and thoroughly.
Place wings on prepared pan, transfer to oven and bake for 30 minutes, shaking pan or turning wings occasionally for even browning.
Melt butter with remaining tablespoon

 

F+F Organic Mesquite Seasoning Rub

 

in small pan over low heat.
When wings are cooked, toss in large bowl with seasoned butter, coating thoroughly. Serve.
----------
Shrimp Boil
Prep time: 30 minutes
Cook time: 45 minutes
Servings: 6
Ingredients:
8 cups water
12 fl. oz. beer
1/2 cup

 

Finch + Fennel Cape Cod Seasoning Rub, plus additional for serving
2 tablespoons ground cayenne pepper
2 bay leaves
1/2 tablespoon kosher sea salt
2 lemons, halved and juiced
4 garlic cloves, roughly sliced
12 small red potatoes
1-1/2 pounds smoked sausage, cut into 2″ pieces
3 ears of fresh corn, shucked and halved
2 pounds large shell on shrimp
Tabasco, for serving
Directions:
Bring water, beer,

 

F+F Cape Cod Seasoning Rub, cayenne, bay leaves, kosher salt, lemon juice, reserved lemon halves, and garlic to a boil in large stock pot over high heat. Skim foam from top of pot. Add potatoes, cover and cook 10 minutes.
Add smoked sausage, and boil for another 4 minutes. Add corn, and continue to cook for 7 minutes. Add shrimp, and cook until shrimp just turns pink and is no longer translucent, about 3 minutes.
Immediately drain cooking liquid and discard lemons and bay leaves. Pour contents of pot into large serving bowl or platter, sprinkle with additional F+F Cape Cod Seasoning Rub

 

if desired and serve.
----------
Triple Berry Gin Sauce
Ingredients:
Directions:
In a medium bowl, mix in jam and gin until smooth.
Place in all the berries and toss lightly as to not smash them.
Cover and let rest at room temperature to allow all the flavors to meld for at least 30 min.
When ready to use, pour over cheesecake or any of your favorite desserts.


Triple Berry Cheesecake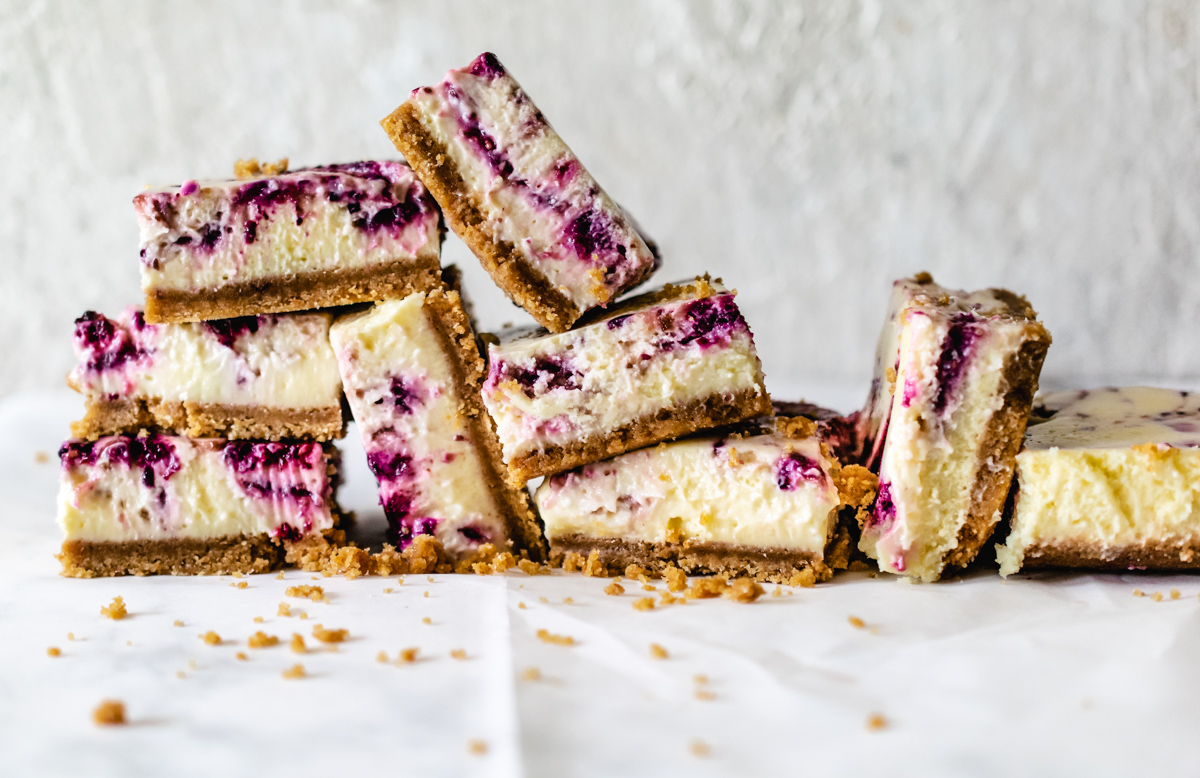 Ingredients:
BERRY SAUCE:
CRUST:
1-1/4 cup graham cracker crumbs
1/4 cup sugar
1/4 cup melted butter
CHEESECAKE FILLING:
2 (8-ounce) packages softened cream cheese
2 eggs
1/2 cup sugar
1 teaspoon vanilla
Directions:
BERRY SAUCE
Combine berries and

 

F+F Triple Berry Jam

 

and the juice of one large lemon, mixing lightly.
CRUST:
Mix graham cracker crumbs, sugar and melted butter in the bottom of a 9 in spring form pan.
Wrap the spring form pan with one large piece of heavy-duty aluminum foil, covering the underside of the pan and extending all the way to the top. Repeat with another sheet of foil for insurance.
Spray the inside of the pan with nonstick cooking spray. Gently press the crumb mixture up the sides of the pan and over the bottom of the pan to form a crust.
Refrigerate until ready to use. When ready to use, pre-heat oven to 375°F and bake for 20 minutes. Remove from oven. Let sit for 15 minutes.
FILLING:
Mix softened cream cheese, eggs, sugar, and vanilla with a mixer until smooth.
Gently pour filling into the graham cracker crust.
Drizzle half of the berry sauce over top and gently swirl in with a knife being careful not to ruin the crust.
BAKING:
Decrease oven temperature to 325°F.
Set the unbaked cheesecake in a large roasting pan. Pour boiling water into the roasting pan until it comes about one inch up the side of the cake pan. The water bath regulates the temperature and keeps the cheesecake baking at an even, low heat. The steam/humidity created by the water bath also protects the cheesecake from drying out and cracking.
Bake until the cake is just set, 1 hour and 30 minutes to 1 hour and 45 minutes. The cake should not look liquidly at all but will wobble just a bit when the pan is nudged; it will continue to cook as it cools.
Carefully remove the roasting pan from the oven and set it on a wire rack.
Cool the cheesecake in the water bath until the water is just warm, about 45 minutes.
Remove the spring form pan from the water bath, discard the foil, and transfer the cheesecake to the refrigerator to cool for at least 8 hours or overnight.
SERVING:
Remove the sides of the spring form pan.
You can serve the cheesecake right from the base of the spring form pan. Or, if you'd like to transfer it to a serving platter, run a long, thin spatula between the crust and the pan bottom, and then use two large spatulas to transfer the cheesecake to a serving dish.
Slice with a sharp knife, wiping the knife clean between slices.
Serve with remaining berry sauce.
----------
Herb-Crusted Lamb Chops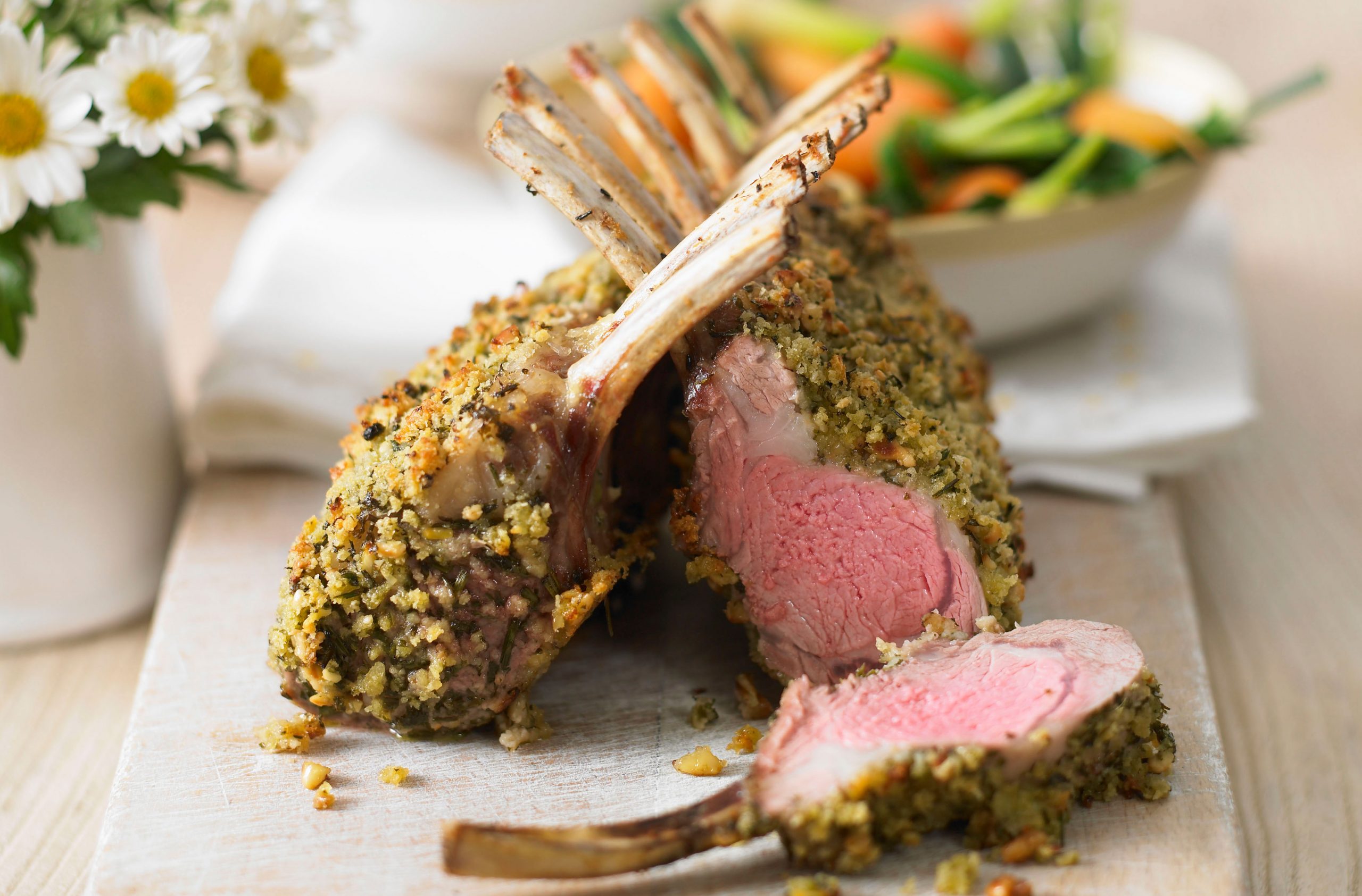 Prep time: 20 minutes
Cook time: 35 minutes
Ingredients:
8 lamb chops (3 to 4 oz. each)
1/4 cup

 

Finch + Fennel Seasoning Blend
1/4 cup vegetable oil, divided
1/2 cup seasoned dried breadcrumbs
2 tablespoons Parmesan cheese, finely grated
1 teaspoon fresh thyme, minced
1 teaspoon fresh rosemary, minced
Directions:
About 30 minutes prior to cooking, remove lamb chops from refrigerator and let sit, covered, to come closer to room temperature.
Combine

 

Finch + Fennel Seasoning Blend

 

with 2 tablespoons oil in small bowl, stirring until smooth. Combine bread crumbs, Parmesan, thyme and rosemary in separate wide, shallow bowl.
Pat lamb chops dry, and coat with

 

Finch + Fennel Seasoning/oil mixture. Roll in bread crumb mixture until well-coated, tapping off any excess.
Heat 1 tablespoon oil in large skillet over medium-high heat. Place half of lamb chops in pan, and cook until golden brown, about 2 to 3 minutes per side. Remove from pan, and repeat with remaining lamb chops and oil.


Potato Salad
Ingredients:
5 medium sized Yukon gold potatoes
3 hardboiled eggs, chopped
1-1/2 cup chopped celery
1/2 cup sweet onion
1/4 cup pickle relish (sweet or dill to taste)
1 tablespoon

 

Finch + Fennel Seasoning

 

Blend
1/4 cup

 

F+F Champagne Honey Mustard
1/4 cup mayonnaise
Salt and pepper to taste
Directions:
Bring large pot of salted water to boil.
Add potatoes (peeled or unpeeled, to preference). Cook until just tender but still firm. 
Drain potatoes, large chop.
Mix all ingredients together and chill.
Garnish with fresh dill.
----------
Truffle Parmesan + Black Garlic Crusted Steak
This Truffle Parmesan & Black Garlic Crusted Steak is cooked to perfection in a cast iron skillet.
Ingredients:
Steak Prep:
Place steak on a large cutting board, letting it come to room temperature (about 20 minutes). This will help the steak cook more evenly.
Sprinkle all sides of the steak with

 

F+F Truffle Parmesan + Black Garlic Seasoning

 

blend making sure it is generously coated.
Directions for Cooking:
Place the cast iron skillet on a large burner on the stove and let it heat up before adding the butter and olive oil. Once the skillet it hot, reduce the heat to medium, add the butter and olive oil. Butter should melt immediately.
Place steaks in the middle of the pan, but not crowding each other. Sear (do not flip them) for 4–5 minutes. Do not move during the searing time. Don't be tempted to lift to check.
After 4–5 minutes, flip each steak and do not move for an additional 4–5 minutes.
After 5 minutes, use tongs to sear each edge for 1–2 minutes. Make sure all the edges are seared.
Once you have seared the edges, check the internal temperature steak and continue to cook on low until it reaches your desired temperature. Medium to medium-rare is an internal temperature of about 145°F.
Remove from pan to a platter when steaks have reached desired doneness and let rest for 5–10 minutes before serving.


Truffle Parmesan + Black Garlic Macaroni and Cheese

Ingredients:
1 lb. elbow macaroni
3 tbsp. unsalted butter plus more for bread crumbs
3 tbsp. all-purpose flour
2 cups whole milk
1 cup heavy cream
1/2 tsp salt
1/2 tsp pepper
1/8 tsp nutmeg
4 ounces cream cheese—softened to room temp
12 ounces grated white cheddar
8 ounces gruyere grated
2 tsp

 

F+F All Purpose Seasoning
Bread crumbs
Directions:
In large pot boil pasta in well salted water until al dente.
In large saucepan melt butter until bubbling. Add in flour and whisk for 2 to 3 minutes until combined and golden brown.
Slowly whisk in milk and heavy cream mix until smooth adding salt, pepper, nutmeg and

 

F+F Truffle Parmesan + Black Garlic Seasoning.
Add cream cheese mix until melted and smooth. Add other cheese and repeat mixing in until smooth and melted.
Pour melted cheese mixture into cooked pasta. Stir to combine.
Place in individual serving or in casserole dish.
Mix bread crumbs with small amount of melted butter and

 

F+F All Purpose Seasoning—top macaroni and cheese.
Bake at 350°F until bubbly and golden brown, approx. 30 minutes.


Truffle Parmesan + Black Garlic Smashed Potatoes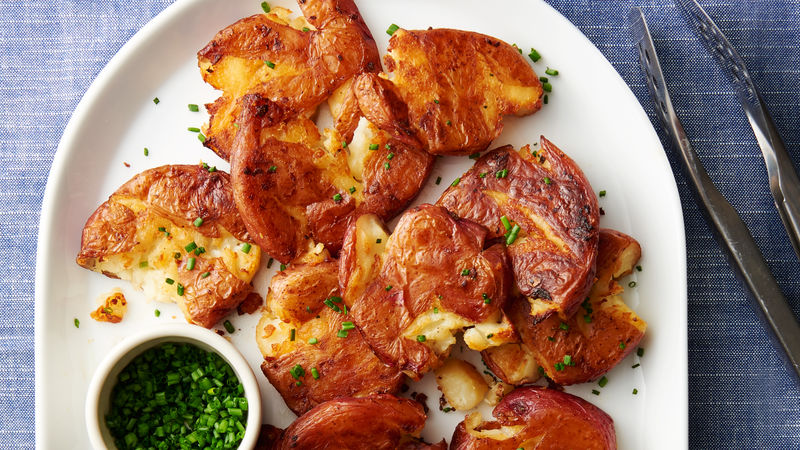 Prep time: 35 minutes
Cook time: 25 minutes 
Servings: 4 cups
Ingredients:
1/4 cup chopped dill
2 lbs. red potatoes (2-inch size works best)
4 tbsp butter (as needed)
1–2 tsp olive oil 
Salt and pepper 
Directions:
Place potatoes in a large pot and fill water until all potatoes are covered. 
Lightly salt the water and bring to a boil, reduce heat once a boil is reached and cook until tender. About 15–18 more minutes pending potato size. The potatoes should be barley cooked.
Once done, remove potatoes and allow for them to cool.
Place potatoes on a sheet tray and lightly toss in olive oil. Use the bottom of a flat glass or measuring cup to crush the potatoes. Add additional olive oil to the bottom of the cup and slowly press down until the potatoes are about 1/4-inch thick.
Crush all potatoes and then air fry at 390°F for 15–20 minutes. Flip potatoes halfway. (You can use an oven as well at 400°F. Cook time will be slower.)
Remove potatoes from air fry and immediately toss in

 

F+F Truffle Parmesan + Black Garlic Seasoning, dill, melted butter and pepper/salt until desired taste.


Truffle Parmesan + Black Garlic Popcorn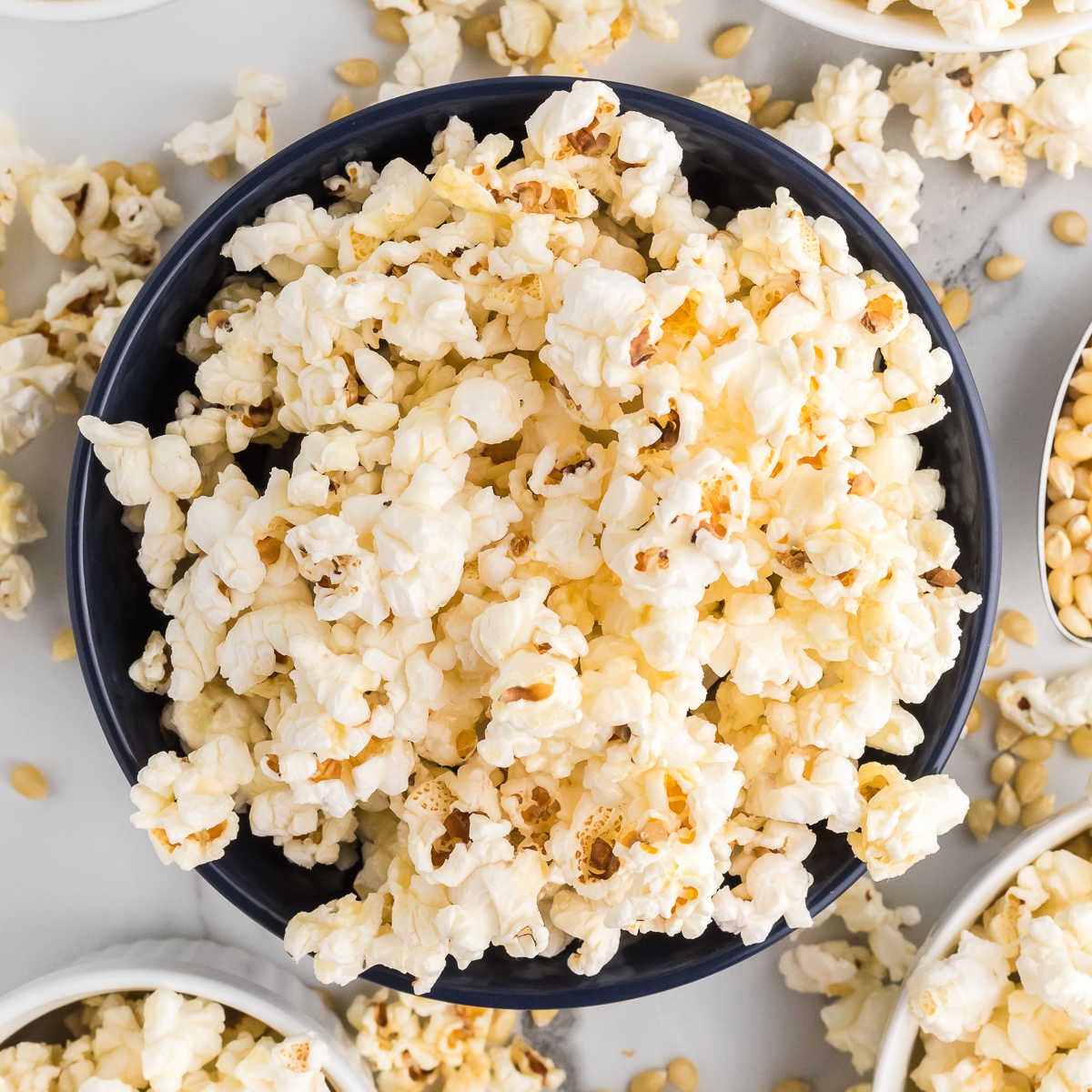 Prep time: 5 minutes
Cook time: 5–10 minutes
Ingredients:
3 cups of popped popcorn
2 tsp butter/ghee 
1 tsp olive oil 
Directions:
Prepare popcorn kernels based on purchased packaged OR use pre-popped popcorn. 
Combine the olive oil with the butter and melt the butter in the microwave or over on the stove top.
Once melted, slowly pour and toss onto the popcorn. 
Slowly add the

 

F+F Truffle Parmesan + Black Garlic Seasoning

 

and toss. Taste as you go for desired strength.